Unless you were born yesterday, there is no need to point out the obvious inspiration for this machine.
I can date my obsession with the General Lee back to the first time I was in hospital as a 4 year old.  After some surgery to resolve an infection my parents got me the toy that I would hide under the shelves every time we went to Safeway.  The General Lee by MEGO.
I bought back this small and important piece of my youth just this year after scouring the earth and Internet for a NOS version of it – and it sits far out of reach of my own spawn.
My cycling roots are most definitely of the knobby tyre variety.  A brief chronology of MTBs I've owned would go something like:
Hallmark Steel POS
Shimano Trail Breaker 1 – with Tioga Elastomer Forks.
Trek 4500
Trek 8000
Specialized Enduro
Moser Rigid ATB
Specialized Camber
Trek Rig Singlespeed
The Fall Guy
There was huge gap in my singletrack career when I lived in London due to the lack of trails within riding distance of where I lived.  I made summer trips to Morzine and Les Gets to ride, but for the next decade track and road bikes dominated my interest.
Around the same time as the TBR (Track Bike Renaissance) of the early 00s there was a singlespeed MTB revolution, and one of the sweet boutique brands of this time was Spot.   I worked at the Spot Shop while I lived in Vancouver and it was my first taste of a purpose built singlespeed – made of Dedacciai flavoured steel.    Somewhere down the singletrack the original owners sold the brand, the frame production moved from Squamish to Golden, to Taiwan and they introduced belt drive to their bikes and well, it just ain't the same ol' Spot.
I'd been on the hunt for a tasty dedicated steel singlespeed for the past two years and none have come close to being perfect, though many have inspired the finished design, one of which is the Ritchey P-29.
THE GENERALLY
This bike has been a long time coming, and is the first custom bike I've owned.
It's uncomplicated and fun, like the car it was based on.  It's a blend of the bikes and bits I've always wanted, designed with the trails of Plenty George in mind.  It's not light but I'm a firm believer that a lighter bike is not a better bike – particularly when you are heavier yourself.
I based the fit around my current Trek Rig which I knew to be comfortable and a great reference point. I tweaked the setup so no spacers would be required, a tapered headtube to suit the fork of 120mm travel, and slightly shorter chainstays and bottom bracket height.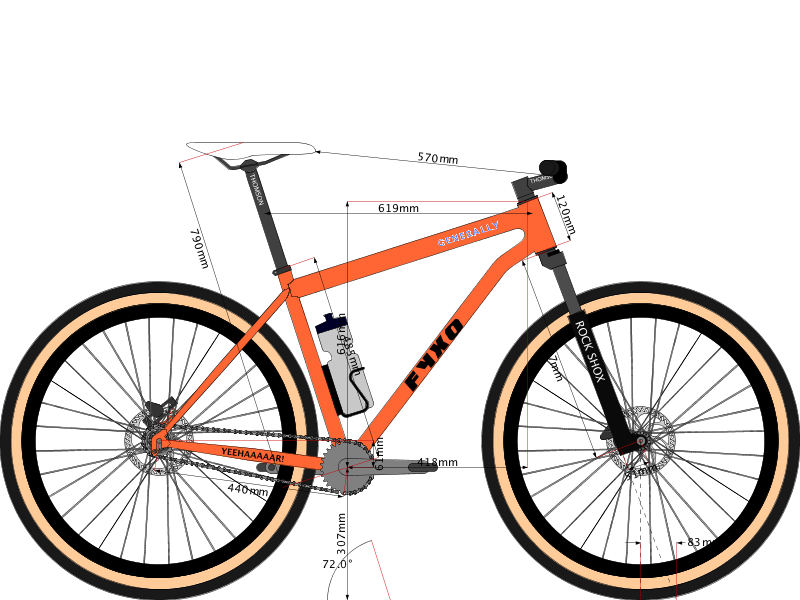 In the end, I resolved to painting the frame myself after it landed on my doorstep in a scheme not even mildly resembling what I ordered.  That process of paint is for another post.
Velospotters:
Generally by Hazzard Cycles.
Columbus ZONA OS – fillet brazed
Rock Shox Reba 120mm / 15mm thru axle
Ritchey drop-in headset 1 1/8 – 1.5
THE SET 175mm Stealth 2.5 piece crankset
Oydessey FANG 1/8 28t Chainring
1/8 18t Steel Cog
IZUMI chain
Hope Pro 2 Singlespeed hubs to Stans ARCH by Curve.
MAXXIS Ardent rubber / Tubeless
Truvativ Bars
FUNN lock on grips
Shimano DEORE disc brakes
Thomson Stem
Thomsom Post
Thomson Seat Clamp
Brooks Cambium C17 saddle
Stainless cages