First, some magic from Jack White and Michel Gondry.
Red hair with a curl
The first time I rode to Adelaide on the Llewellyn I bought another piece of Australiana from Mike Turturs bike shop which was allegedly Brett Lancaster's old Euro Sport frame.  The first time Brett's name came to prominence for me was when he won the prologue of the 2005 Giro – beating Stuey who rode a Willier 'fixie' on this occasion.
The prologue was a dead flat kilometre, perfectly suited to the current Olympic Team Pursuit gold medallist.
You may remember the prologue more for what Cipo wore.
On the CN report at the time the only pic of Brett from Shep was this one – and I assumed like 90% of pro cyclists that he was vertically challenged.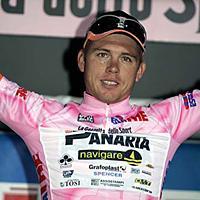 I had my doubts as to whether the frame could actually be Brett's.
I've hung onto to it for many years, listed it for sale and had some tyre kickers interested but something about it reasonated for me.  The urban legend that Euro's were only built for Australian Team riders, the fact that Bryan Hayes built and painted all the frames a fact I'd learned after interviewing him for piece for RIDE magazine.
I'd accumulated an Athena 11s groupset for the Llewellyn in the background with the intention of having one modern classic road bike, but after the chance encounter with Bryan this January in Adelaide and a intimate tour of the bowels of the Superdrome I was being swayed in another direction.   Bryan recalled the frame – but Brett doesn't remember it – or remember it looking like that as he said when he began the AIS program in 1997 they rode the old steel bikes of former riders.   I met Brett when I did the Green Edge rider portaits the year the team was launched, and turns out we are a very similiar height.  We got talking about classic bikes as he still has his steel track bike with C Record that he gets around Shep on when he's home – risers bars and cap backwards.  Surely Shepparton and the Worlds FASTEST HIPSTER!
All this was enough of an emotional canvas build something new.
I dabbled with weight weenieism by swapping the Cinelli steel binder bolt for alloy (40g), standard rail saddle for Ti (80g), C Record pillar for mid 90s Record (80g) and helium for oxygen in the tyres (2 g) for a net gain of 202g.  I could have swapped the C Record skewers for alloy / ti (80g) but I love the look of the originals it's the nod to the past I like.  It's 9.3kg on the scales.
You'll note I went against all pedal recommendations and am in the minority with Campagnolo Record Ti Pro-fit which are an excellent pedal – just not designed for CX.
I like it a lot.
For the Velospotters:
Euro Sport frame and fork
59cm top / 60cm seat
Columbus Neuron
Campagnolo Athena 11s – Naomi Klein edition
Campagnolo C Record style engraved cranks
NOS Cinelli XA 110mm stem
NOS Cinelli Giro D'Italia Bars 44cm
Campagnolo Record 1″ headset
NOS Campagnolo Record 27.2 post
Campagnolo Record Pro Fit Titanium pedals
White Industries H3 hubs / Mavic Open Pro
Vittoria Open Corsa tyres
Regal titanium rail saddle
Thanks to Velomine who supplied the parts.  I've been dealing with Ben for over 6 years.  They have amazing pricing like Wiggle – but with personality.  Personality goes a long way.