If I never create anything cooler than this years Melburn Roobaix I'll die a happy man.
How I can top 2013 I have no idea – but I've got a few months to dream it up. You can read all about the 8th Annual Melburn Roobaix inside.
As I look back on 8 editions, I can see the momument of a decades work now clearly in sight.  I'm very proud of the event, and even prouder that this year was definitely 'better'. It just so happened to be a little bigger, and thanks to some last minute spruiking  a few more people will be able to put two and two together when they see a swarm of happy cyclists on the last Sunday in June.  2014 will truly sell out faster than a Radiohead concert.  Start camping out at Coffee Supreme now.     Highlights. 1.  The weather.  A-mazing. 2.  The Talking Horse winning cutest couple. If you uncover the costume you'd discover that the stoker is visually impaired and with the aid of his trusty pilot he experienced the event where he may otherwise not have been able to.   You just can't script this kind of awesome. 3. The Ayres Kids who set up a Lemondade stand on Sector 12 selling drinks, lolllies, chocolate and raised $130.25 for Bikes for Life.   The Lowlights. Not on this day.   Best Video. It was short, it was sweet and they rode it complete.     Best Blog It's reading posts like these that give what I do a sense of purpose.  I'll never forget my first alleycat and the magic of that experience.  Melburn Roobaix is my way of recreating that experience for all that ride – and even those who tag along. If you haven't ridden and are wondering what all the hype is about, this may help impart some sense of the experience from a Roobaix newbie – without you breaking a sweat.   The Secret Sector. Last year this weary Roobaixer travelled from Sydney to ride – won 'Best Beard' and had it wiped off his face for his effort.  Good to see the Beard back in full swing – 365 days later.
Coffee Peddlr was the secret checkpoint for those who followed the suggested route – and it payed handsomely with good tunes, a kick of the footy and a FYXO bidon.   A short steep ascent of Col D'Arden took riders across the border into Kensington. Check out the antics on instagram using the #coffeepeddlr tag.
Best Cafe. In fairness, Two Bob was the only Coffee Supreme joint I managed to squeeze a drive by of and from a far it looked like a daytime version of the Duke of York on Friday night.  Bikes everywhere, some stacked on top of each other.  If this was an example of the caffeine chaos early in the day, I would have loved to seen some of the others.
A very lucky guy also became the proud owner of this Little Guy by OTTO  which looks like an Atomic and thats where the similarities end.  Thanks to Justin and all the crew from Supreme for this awesome prize.
    Best Sector. 13 is only unlucky for some.  With the Koppenberg given a formal miss on the route, Health.com.au got stuck in, brought a cheerleading squad and set up an urban obstacle course on the final sector. They also had a photographer capturing nearly the entire field as they rolled through. Find yourself here.
I saw Gene Bates do this sector at least 4 times.   He is the first human in existence to have 'raced' both Roubaix and Roobaix.   I'd like to dream that one day, Stuart O'Grady will be another to join that select group of humanoids. For those that didn't ride, this is what Sector 13 was like.       Best Old Skool.
Your man on the left rode a beautifully fully pantographed Olmo, with Clement Servizio Corse tubulars and the full retro get up.  He also failed a drug test at one of the cafe's.  For his troubles he wins a L'Eroica book thank to Peloton Cycling Tours. Special mention to your man on the right who at first glance is wearing 'just another' Molteni winter trainer.  Just so happened to be Patrick Sercu's old top.  Gold!   Spirit of Roobaix.  We had a number of 9 year olds ride the route this year, which I can only imagine an event like this is going to drastically shape their lives forever.   Maybe they'll start their own event, or ride the 'other' Roubaix.  Time will tell. One high spirited nutcase convinced his mate it'd be a great idea to Ride To Roobaix – from Canberra.  If you check out the adventure it included, dirt, freeways, stolen bikes and fortunately later recovered. This is just the kind of spirit I love – Paddy, you win the 'Spirit of Roobaix' award and a Bryton GPS Rider 50 and my Mum's Jam for your troubles.
Where's Stuey? Thanks to Peter Bongiorno for capturing the crazy from #MelburnRoobaix for the third year in a row. Find yourself amongst the crowd here – and for $5 you can purchase the high res files for print.
The Vainqueur. Dave Mullens was this years 'Winner'.  Drawn from the gold box of manifests.  Lucky devil wins an airfare to Paris to see Rhonde Van Vlanderen /  Paris-Roubaix.   Rumour has it he's already 'training' for next year.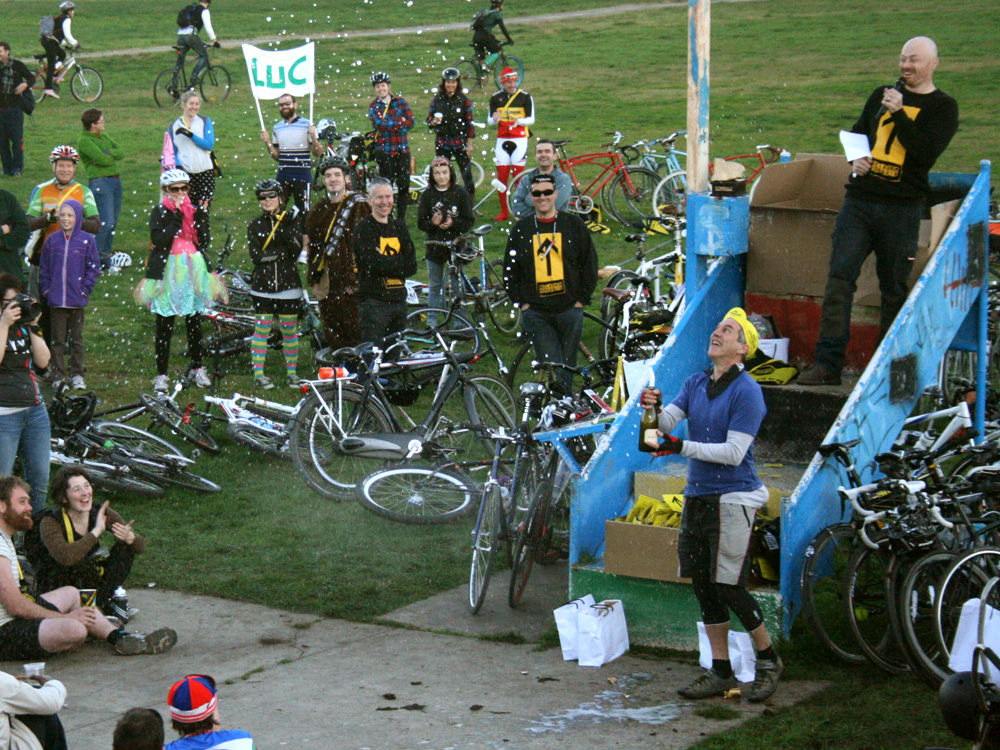 Pic: Tricksome
The Pave didn't know what hit it. I managed to take a few snaps throughout the day, from the start, Sector 13 and the 'Roobaix' velodrome.
Thanks you's: To all our major sponsors who have all supported the event for 2 years or more.
Thanks to the FYXO Team on the ground, Brunswick Cycling Club, and in particular Mr Pink / David Morgan for being himself. Massive thanks to Mum and Dad for not only making me, but packing all the musettes which took them the best part of a week. Special thanks to The Boss for reminding me of everything I nearly forgot. Thanks to all the companies, brands and people who generously donated prizes.
Bryton    Fyxation    Kincrome   Velovin
Creux Cycling     GONZLAB     Wye General Store
  Finally, thanks to all those who rode.   You know who you are.     Till next year. Ride safe, Andy